A wine club created for the sweeter things in life!
Your favorite sweet wines, delivered straight to your door.
Chosen by Winemakers
for Sweet Wine Lovers
Our team of experts hand-selects exclusive wines to include in each box, all of which are certain to satisfy that sweet side of yours.
Sweetness delivered
to your door!
Each Sweet Wine Club box is filled with additional goodies, such as food pairing recipes and exclusive coupon codes.
No Commitment,
100% Confidence
From complimentary shipping on your Sweet Wine Club boxes to a no-questions-asked cancellation policy, we make it easy for you to join with confidence.
Join the sweet life!
As a member of the sweetest club around, you'll be able to enjoy sweet perks like customized recipe cards, additional gifts, complimentary shipping, and exclusive discounts on our wines.
Sign up today and receive our Fall Box (shipping September 18 – December 31).
6 Bottle Club
$86.99 every 3 months
3 Bottle Club
$52.99 every 3 months
What's in the box?
Sign up today and receive our Fall Box (shipping September 18th – December 31st)
Stella Rosa® Sparkling Cranberry
Our Stella Rosa® Cranberry Sparkling is made from aromatic grapes harvested in Piedmont with the infusion of natural cranberry flavors. Its fruity and floral profile reveals a surprising sweet-and-sour aftertaste which makes it refreshing and round at the same time.
Stella Rosa® Organic Red Fruit Fusion
Welcome our newest flavor of Stella Rosa®! The wine's natural flavor is light, elegant and fresh. A proprietary blend of several grape varietals with strawberry and red berries for balance and a rich taste with a sweetness that is not too heavy.
Stella Rosa® Moscato D'Asti
Stella Rosa® Moscato D'Asti keeps you on your A-game. This semi-sweet, semi-sparkling wine is perfect for girls nights (and guys nights), date nights, daytime activities, and you-time. Notes of pear and apple.
Did you know? For every box delivered, we donate one year of clean water to a person in need.
See Terms & Conditions for more details.
Past Shipments
2022 Fall Box
NEW! Stella Rosa® Cranberry
San Antonio Fruit Farm Blackberry Orange
Stella Rosa® Black Lux
2022 Winter Box
Chocolate Bar Port
Stella Rosa Blueberry
San Antonio Fruit Farm Cherry Lime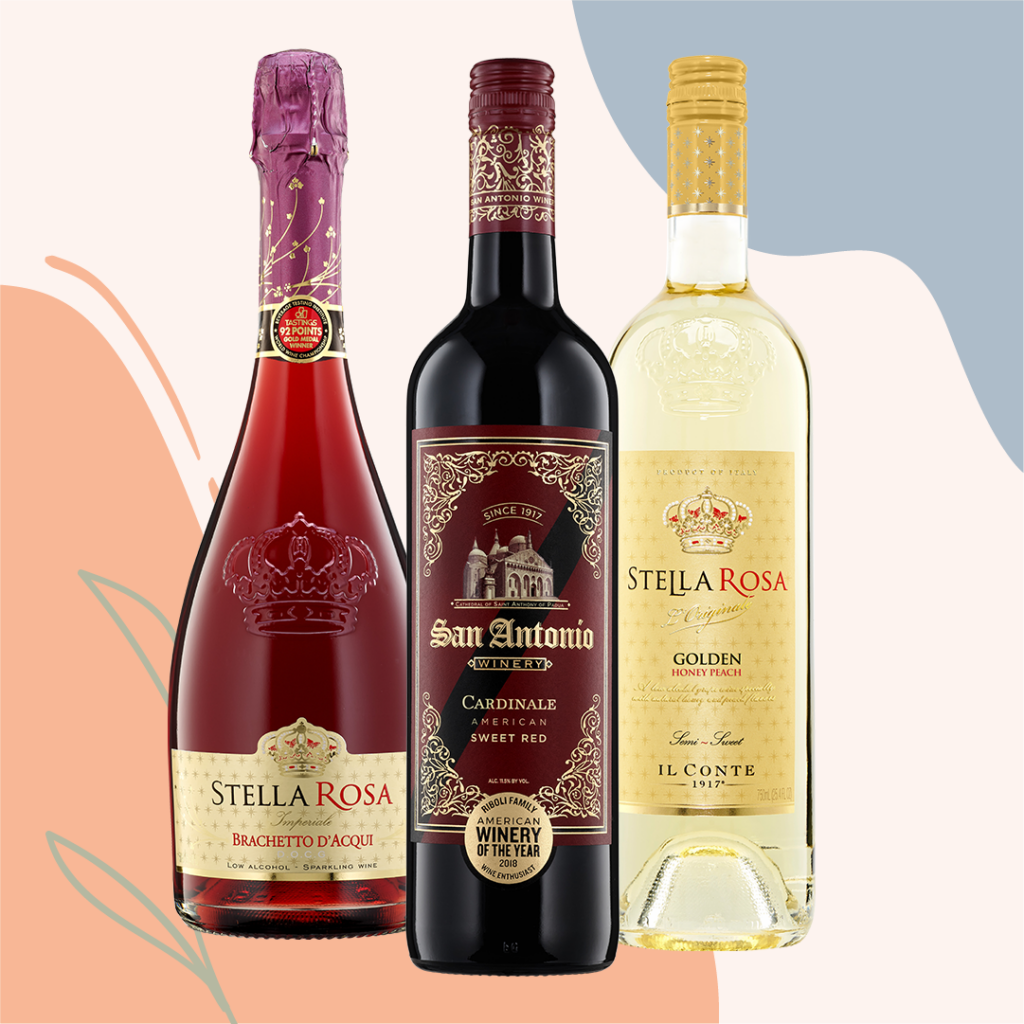 2023 Spring Box
Stella Rosa® Imperiale Brachetto
San Antonio Cardinale
Stella Rosa® Golden Honey Peach
2023 Summer Box
Stella Rosa® Pineapple & Chili
San Antonio Fruit Farm Pineapple Papaya
Stella Rosa® Strawberry Rose